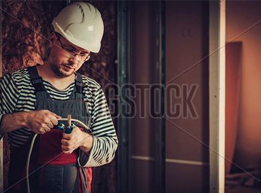 With the explosion of big-box DIY stores, it can be tempting to try to tackle home-improvement projects without professional help. While you can probably apply paint or hang wallpaper yourself, you shouldn't try to pull off electrical work. Here are two undeniable reasons you should leave your home's electrical work to professional electrical contractors.
Electricity Is Dangerous
Nowadays, virtually everything requires electricity. Older homes, however, weren't built to handle modern electrical demands. Accordingly, homeowners often want to add outlets, modify circuitry, or otherwise improve their home electrical systems. Of course, doing so can be tremendously hazardous. Not only can electricity shock anyone who touches it, bad wiring can cause a house to burn to the ground.
Since electricity is dangerous, you should not turn home electrical work into a DIY project. Instead, rely on the skill and expertise of professional electrical contractors to keep you, your family, and your home safe.
Codes Matter
If you ever want to sell your house, you must be certain any improvements you make comply with building codes. When it comes to electrical improvements, you may have to pull a permit before you begin work. You may also need to have the new wiring inspected by an approved inspector. Even if your electrical work doesn't require permits or inspection, it must be high-quality to pass future home inspections pursuant to a sales agreement. Either way, the quality of electrical work matters.
Since professional electricians understand both how to comply with building regulations and how to appease future home inspectors, they install compliant wiring, circuitry, and other electrical systems. Instead of worrying about whether your new electrical components comply with law, get peace of mind by working with a qualified electrician.
Some home-improvement projects are good for DIY enthusiasts. Others, however, you should simply leave to the professionals. To ensure your home's electrical system is in tip-top shape, contact professional electrical contractors for any work involving electricity.